Best Data Analyst Jobs in Denver
Find your next job in data analytics in Denver. Check out the best job offers for data analyst in Denver!
Trusted by global brands in Data and AI
---
Ever dreamed of a job where you can leverage your love for numbers and patterns to shape crucial business strategies? Welcome to the world of data analyst jobs. But where, you ask, is the ideal place to pursue such opportunities? The answer may surprise you: Denver, Colorado. Let's take a closer look.
What is a data analyst?
A data analyst is like a treasure hunter, but instead of looking for gold, they're on the hunt for valuable insights hidden in raw data. These professionals use their statistical skills and industry knowledge to collect, process, and interpret data, helping businesses make informed decisions. So, if you're fascinated by figures and have a knack for solving complex problems, a data analyst job could be your calling.
Data analyst job market in Denver
Now, let's zoom in on Denver. Known for its stunning landscapes and vibrant city life, Denver is fast becoming a hotspot for tech jobs, including data analyst positions.
The Mile-High City is home to a diverse range of industries - from healthcare to finance, from energy to technology. This means an abundance of opportunities for data analysts across various sectors. Companies in Denver, big and small, are on the lookout for skilled analysts to help them navigate the data-driven digital economy.
How to land data analyst jobs in Denver
So, you're wondering, "How do I break into the Denver data analyst job market?" The answer begins with education. A degree in a related field like computer science, statistics, or economics is a great place to start.
But don't overlook the power of professional certifications. Many online platforms offer courses in data analysis, providing you with the chance to earn recognized certifications. Not only do these courses equip you with valuable skills, but they also make your resume stand out to potential employers.
Experience is another key factor. An internship or a project that allows you to get hands-on experience with data analysis can be a game-changer when you're job hunting.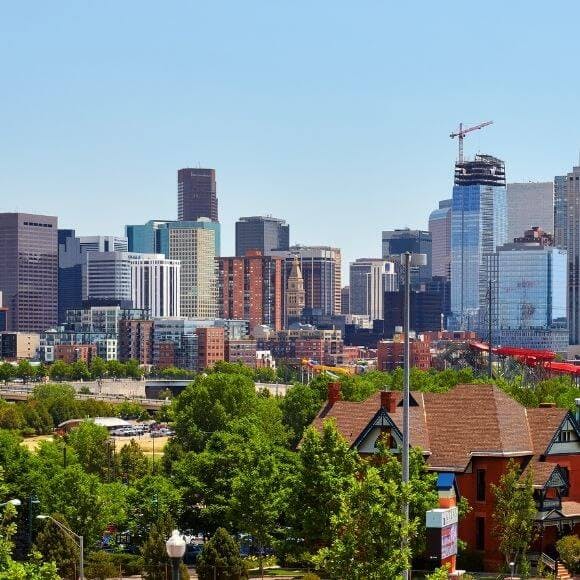 Career progression and salary in Denver
Let's talk numbers. As a data analyst in Denver, your career trajectory can be as dynamic as the city itself. Starting as a junior data analyst, with the right mix of skills, experience, and continuous learning, you could progress to roles like senior data analyst, data scientist, or even data analytics manager.
Now, about the pay. According to Glassdoor, as of 2023, the average base salary for a data analyst in Denver is around $70,000 per year. However, with more experience and specialization, your earning potential can significantly increase. Plus, let's not forget about the fringe benefits like health insurance, retirement plans, and paid time off that often come with these positions.
Future trends in data analyst jobs in Denver
Looking ahead, the future of data analyst jobs in Denver appears promising. With an increasing number of businesses leveraging data to drive decisions, the demand for skilled data analysts is set to rise.
Moreover, with technological advancements like artificial intelligence and machine learning, the role of a data analyst is continuously evolving. This means more opportunities for you to learn, grow, and contribute to this exciting field.
Living in Denver: The work-life balance
But working in Denver isn't just about the job. The city offers a unique blend of work and play. With its stunning mountains, abundant outdoor activities, rich cultural scene, and buzzing food and drink landscape, Denver provides an ideal work-life balance.
Imagine finishing a productive day of analyzing data, and then heading out for a bike ride in the Rocky Mountains, catching a concert at the Red Rocks Amphitheater, or enjoying a craft beer at one of the many local breweries. Sounds like a good life, doesn't it?
Conclusion
In conclusion, if you're seeking a rewarding career in data analysis, Denver offers a thriving job market, competitive salaries, and an unbeatable lifestyle. With the right skills and a passion for data, you could find your dream data analyst job in the Mile-High City.
So, are you ready to take a leap into the exciting world of data analyst jobs in Denver? It might just be the adventure you've been waiting for!
No results found
You have filters applied. Press the button below to clear the filters
Frequently asked questions
At Dataaxy, we understand that finding the right job can be challenging. That's why we provide resources and tools to help you navigate the job search process with ease. Whether you're a seasoned data analyst or just starting out, we can help you find the perfect job to match your skills, experience, and preferences.
Join millions of Data Experts
The ratio of hired Data Analysts is expected to grow by 25% from 2020 to 2030 (Bureau of Labor & Statistics).

1/4

Data Analyst is and will be one of the most in-demand jobs for the decade to come.

#1

16% of all US jobs will be replaced by AI and Machine Learning by 2030 (Forrester).

16%
Get Job Alerts
Join 5K+ talents receiving the latest job alerts and exclusive market insights.
Sign up now and get our free 2023 Data Salary guide 💰