Data science engineering careers
Best Data Scientist jobs in Seattle
Find your next job in Data Science. Check out the best job offers for data scientists in Seattle!
---
No results found
You have filters applied. Press the button below to clear the filters
Frequently asked questions
Seattle is a city with a thriving tech industry, and a great place for data scientists looking for their next opportunity. At Dataaxy, we specialize in connecting top employers with talented data scientists, and we can help you find the perfect data science job in Seattle.
Data scientists are in high demand in many industries, including e-commerce, healthcare, finance, and more. At Dataaxy, we work with leading employers in Seattle to bring you the best data science jobs available.
One of the most important considerations for job seekers is compensation. At Dataaxy, we understand that salary is a key factor in your job search. That's why we make it easy to search for data science jobs in Seattle by salary range, so you can find positions that offer the right level of compensation for you.
In addition to salary, many job seekers are interested in finding the best companies to work for in their field. At Dataaxy, we work with top employers to bring you the best data science jobs with leading companies in the Seattle area. Whether you're interested in working for a startup or a large corporation, we have opportunities available at top firms.
At Dataaxy, we understand that finding the right job can be challenging. That's why we provide resources and tools to help you navigate the job search process with ease. Whether you're a seasoned data scientist or just starting out, we can help you find the perfect job to match your skills, experience, and preferences.
So if you're ready to take the next step in your data science career in Seattle, start your job search with Dataaxy today. We have the resources and expertise to help you find the perfect position with top companies in the Seattle area, with competitive compensation and opportunities for growth. Your dream job as a data scientist in Seattle is just a few clicks away.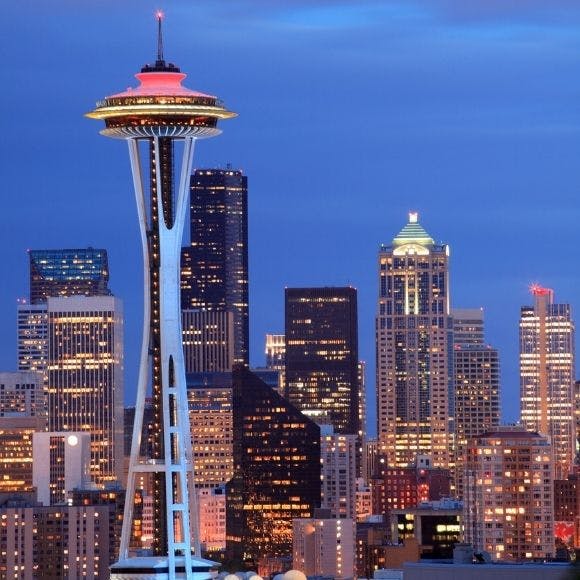 Why choose Seattle for your Data and AI tech career?
Seattle, also known as the Emerald City, is a growing hub for data and AI tech careers. Curious about what makes this city so attractive for tech professionals? Let's take a closer look!
Job opportunities
Seattle is home to several leading tech companies and startups, offering a range of job opportunities for data and AI experts. With a thriving tech industry, the city presents endless possibilities for career growth and advancement.
Competitive salaries
Seattle's tech industry offers highly competitive salaries for data and AI professionals, ensuring your skills are valued and compensated appropriately.
Work-life balance
The city's scenic beauty and laid-back lifestyle provide an ideal work-life balance for tech professionals. After a day of data analysis and AI development, why not explore Seattle's famous Pike Place Market or take a hike in one of the city's many parks?
Innovation culture
Seattle's innovation culture fosters creativity and encourages risk-taking. The city's tech industry pioneers groundbreaking technologies, making it an exciting and dynamic place to work.
In summary, Seattle presents a unique combination of job opportunities, competitive salaries, work-life balance, and innovation culture for data and AI tech professionals. Ready to join the Emerald City's growing tech industry? Seattle is waiting for you!
Join millions of Data Experts
The ratio of hired Data Analysts is expected to grow by 25% from 2020 to 2030 (Bureau of Labor & Statistics).

1/4

Data Analyst is and will be one of the most in-demand jobs for the decade to come.

#1

16% of all US jobs will be replaced by AI and Machine Learning by 2030 (Forrester).

16%
Get Job Alerts
Join 400+ talents receiving the latest job alertsand exclusive market insights.
Sign up now and get our free 2023 Data Salary guide 💰